Trail Etiquette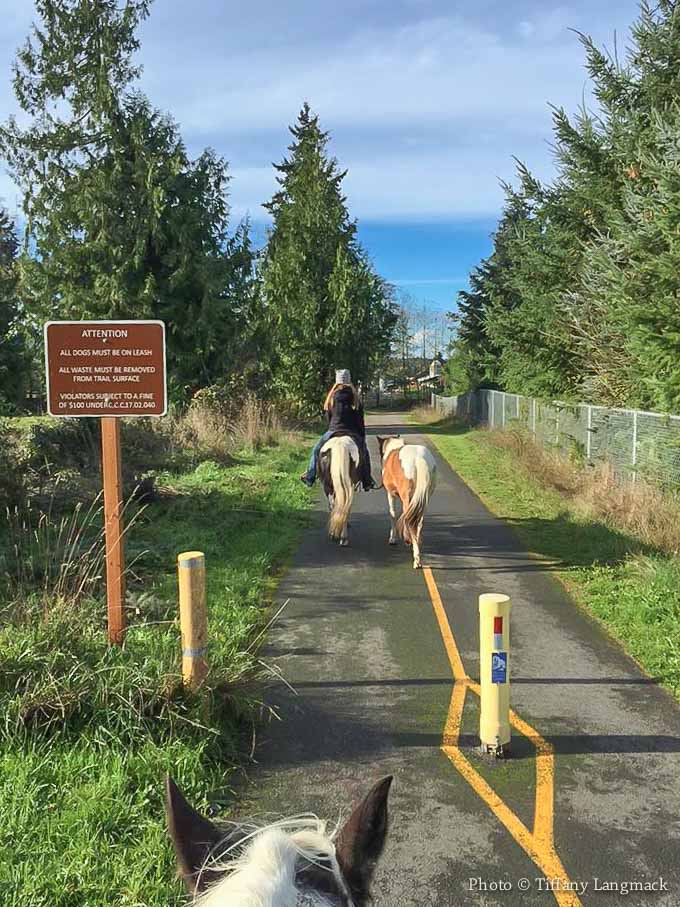 Trail Guidance for All
In an emergency, dial 911
You are responsible for your own safety at all times.
No motorized vehicles, aside from electric assisted bikes and wheelchairs.
Share the trail and respect other users.
Respect private property and stay on the trail.
Use caution at all intersections.
Maintain passing room on your left.
Continually watch for other trail users.
Keep speeds low when overcoming other trail users.
Slow down when sightlines are poor.
Clean up after your pets.
Keep pets under control.
Yielding Guidance
Yield the right of way to those passing you from behind.
Bicyclist yield to runners, hikers and horses.
Walkers and runners yield to horses.
Horses yield to passing trail users.
Pedestrian Guidance
Pedestrians and runners should always stop and step to the side of the trail when they meet horses on the trail. Ask for guidance if necessary.
Maintain passing room to the left of your party.
Bicyclists Guidance
Always maintain passing room to the left
Use caution at all intersections.
Pull to the side of the trail far enough for horses to pass safely as soon as you see them. If terrain isn't level, move to the downhill side of the trail if possible.
When approaching horses from behind, stop, call ahead and make yourself known to the rider.
Ask them if it is OK to pass and the best way to do so.
Horse riders may pull to the side of the trail if they hear a bicycle approaching but this does not necessarily mean it is safe for you to ride by. Stop and wait for instructions.
Equestrian Guidance
Be sure you can control your horse within a shared use environment.
Be alert and aware of the presence of other trail users. If possible, pull to the side of the trail when you hear bicyclists and other trail users approaching from behind.
Be prepared to let other trail users know what needs to be done to keep you, the horse and others safe when meeting on the trail.
Less experienced riders should ride behind more experienced riders.
If you are ponying a horse, go slow and never take a loose horse on the trail.
The Trail is not suitable for cantering or galloping.