Board of Directors
The Peninsula Trails Coalition is governed by a board of directors of up to 15 members. The board appoints a president, vice presidents for Clallam and Jefferson County, treasurer, and recording secretary.
Board meetings are held on the second Wednesday of every month.  Board meeting minutes are available on request.
The annual all-PTC membership meeting is held every year in May.
Meet the Peninsula Trails Coalition Board Members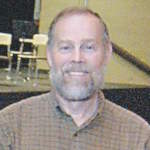 Jeff Bohman, President
Joined the Board: 1991
PTC Focus: Jeff is the go-to board member for PTC outreach, advocacy, and partnership among the broader community, including municipal jurisdictions, related nonprofit groups, tourist boards, and business entities.
Background & Hobbies: Former educator at Peninsula Community College. Jeff enjoys traveling and cycling.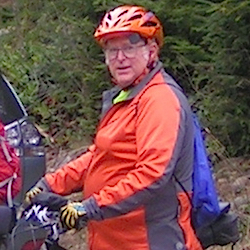 Gordon Taylor, Vice President, East Clallam County
Joined: 2013
PTC Focus: Trail projects. Liaison to the City of Port Angeles.
Background & Hobbies: Gordon worked in heavy industrial maintenance and military testing for 40 years before retiring from Nippon Paper in Port Angeles. He began bicycling after being advised to pick up lower-impact exercise. This led to riding the West Port Angeles trail before it had a bridge and paving, and then joining that trail's improvement project and the Peninsula Trails Coalition. Gordon is also into metalworking, motorcycles, and auto racing.
One of Gordon's favorite quotes: "Those that say a job cannot be done should not interrupt those that are doing it." ―George Bernard Shaw
John Dolansky, Treasurer
Joined: 2010
PTC Focus: Provides the PTC with responsible financial management and reporting to enable it to succeed in achieving its mission and vision.
Background & Hobbies: Sixteen years as a controller, assistant controller, and data processing manager in various firms. Owner of John F. Dolansky CPA since 1988. Former Big Brother in Big Brothers Big Sisters; former Jaycee. John enjoys cycling, traveling, and cooking spicy food.
In John's own words. "Ever since I retired to Sequim and the Olympic Peninsula, my hope has been to help finish the length of the ODT and showcase it to all cyclists around the world."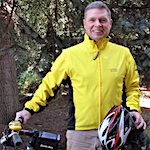 Brian Anderson, Clallam County
Joined: 2016
PTC Focus: Implementing the Business Partner Program.
Background & Hobbies: Brian spent his career in sales and marketing. Prior to retiring, he was president of Vision Bankcard, a merchant bank card provider with more than 8,500 clients. He is currently president of the Cedars at Dungeness Men's Golf Club. He enjoys traveling, hiking, and cycling.
In Brian's own words. "I want to give others who love the outdoors a means to discover the wonders of the Olympic Peninsula."
Bob Lake, Clallam County
Joined: 2015
PTC Focus: City of Sequim liaison
Background & Hobbies: Bob's background is in risk management, business efficiency, and database design. Now retired, he enjoys running, cycling, and rollerblading, and is a self-described "so-so assistant sign board maker." On why he moved to Sequim: "After New Zealand, where could we go other than the Pacific Northwest? As a business consultant and volunteer, do we ever really retire?"
In Bob's own words. "We picked our house location because of its proximity to the Olympic Discovery Trail. Have you ever seen anyone on the trail who is not smiling?"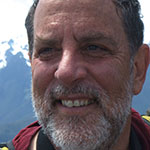 Bob Petersen, Jefferson County
Joined: 2015
PTC Focus: A jack-of-all-trades, Bob is up for taking on any trail project that needs to be done.
Background & Hobbies: Bob's work life focused on building teams for complex technical project, first as an environmental engineer, and later in automotive software development. Today, Bob teaches people how to move using the Feldenkrais Method and is on the board of wind energy startup Regenedyne.
In Bob's own words. "Coming from a long line of fisherman, being semiretired and living on Discovery Bay is like coming home in a very deep, satisfying way. I'm looking for a way to build community in my community. Building a trail across the Olympic Peninsula offers a unique opportunity to do that using the skills and interests I have developed over the years."
Ron Wheeler, Jefferson County
Joined: 2015
PTC Focus: Combined ODT/PTC website, launched in 2017.
Background & Hobbies: Ron is a retired aviation safety manager and creator of the international bicycle touring resource The Loaded Touring Bike – Photo Gallery. He has extensive brand and marketing experience on a national level.
Ron enjoys hiking, running, cycling, kayaking, and exploring.
In Ron's own words: "The Olympic Discovery Trail elevates quality of life within the communities it flows through, bringing people outside and together. When you meet someone on the trail, you already have something great in common. See you on the ODT!"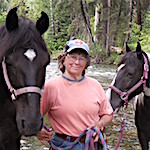 Jan Whitlow, Equestrian Community
Joined: 2016
PTC Focus: Representing the equestrian community to cultivate shared-use standards and practices on the Olympic Discovery Trail.
Background & Hobbies: Jan has enjoyed a varied career as an archaeologist, historian, and technical writer for computer and medical device manufacturers. Horses are her passion. She takes care of a small herd at her home in Port Angeles. Jan is also a member of Backcountry Horsemen of Washington—Peninsula Chapter and helps to maintain the trails in western Clallam County.
Bob Anundson, Clallam County
Joined: 2017
PTC Focus: Coordinator for the Sequim City section Trail Maintenance Adopters.
Background & Hobbies:  Bob spent his career in the computer and software industry at various positions including Engineering, Marketing, Sales and General management. His last employment was as President of his own tech firm. Since moving to Sequim in 2002 Bob has volunteered many organizations including the Sequim Planning and Civil Service Commissions, City Council, and Board positions in Master Gardening, Senior Center, and Home Owner Association. His major hobby is road cycling and as such a major user of the trail.
In Bob's own words:  "I retired in Sequim because of the weather and stays because of the wonderful people."