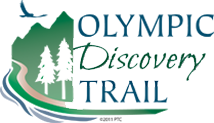 ODT Eaglemount Open House : Thursday April 12th!!
Topic:     Getting the ODT off of SR20!!
When:    6:00-8:00PM,  Thursday, April 12th
Where:   Jefferson Transit, 63 Four Corners Road, Port Townsend
More:      Please be there to support this project!
Details:
You are invited to participate in a public Open House, Thursday April 12th, on the subject of connecting the Olympic Discovery Trail in Jefferson County between Discovery Bay and the Larry Scott Trail.
This is a critically important step in the process launched by the Jefferson County Public Works Department, their consultant Alta Planning and Design, along with the Peninsula Trails Coalition and community volunteer advocates . Please attend the Open House and bring your questions & comments.  You may also send comments to: odt@co.jefferson.wa.us And for more project information, Click Here to go the related Jefferson County webpage.
If you love the ODT and want to see it stretch across 130 miles of the north Olympic Peninsula, please support this project. Your support is critical 
Thank you very much.
Peninsula Trails Coalition Board